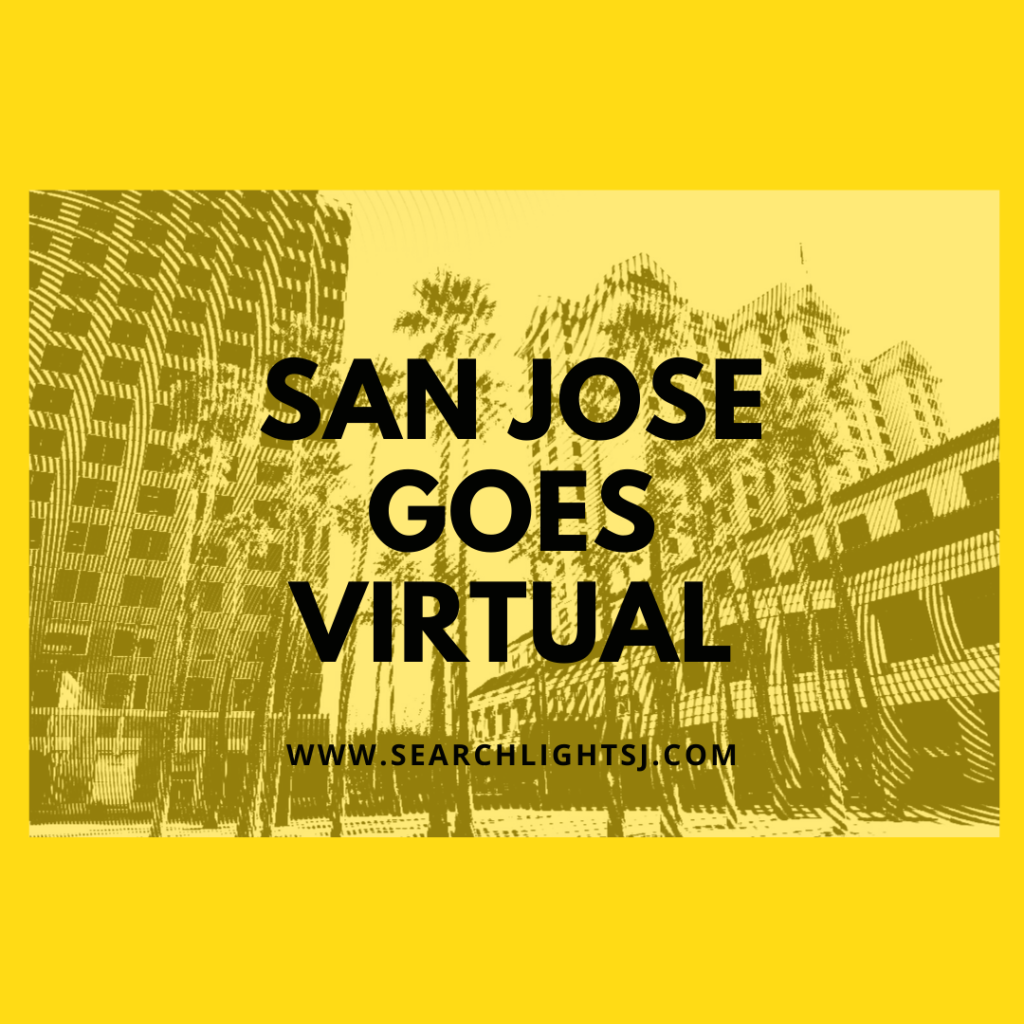 Believe us. We know more than anyone that these days you're desperately sad to not be able to go out into San Jose and experience the wonders of our fine city in person. But while we all shelter in place together for…however long we'll be doing this…you don't have to miss out on the best that San Jose has to offer! Avoid the parking garages, traffic, and crowds and let San Jose come to YOU! 

Pick a few of these virtual experiences and paint the virtual town red.

THEME PARKS

Take a ride at California's Great America
Not only can you virtually ride some of your favorite attractions from our beloved theme park, you should definitely follow their Twitter account too. You'll find a bunch of activities for kids to do (including a Great America word search) and nostalgic pictures of the park that will have you reminiscing about, well, times when we could be within 6 feet of each other.


Get wild with Happy Hollow Park and Zoo
Here again, following Happy Hollow's Twitter will lead you into a delightful array of animal videos and pictures from around the park, plus you'll get live, critical updates around such important events as Vintana the black and white ruffed lemur's pregnancy and imminent labor. If that's not enough, Happy Hollow is ready to make your Zoom meetings more enjoyable with an array of virtual backgrounds you can charm your co-workers with–including one of Danny himself.

MUSEUMS
History San Jose online exhibits…and super-weird pics from their warehouse
Who doesn't want to time travel out of 2020 right now? Visiting any of History San Jose's online exhibits is your chance to escape COVID-mania and see San Jose in eras of DIFFERENT viral outbreaks! Plus, on their Twitter account they're posting some of the very bizarre historical artifacts from their extensive archives including:

This old but probably still totally delicious can of soup from 1883:
This assortment of frogs from their "very large frog collection":
…and this EXCEPTIONALLY upsetting Chuck E. Cheese animatronic:
Get artsy on a Thursday
The San Jose Museum of Modern Art is offering "Virtual Views" on Thursdays — tours through virtual exhibits led by curators who will be answering your questions and fortifying your tour experience with videos, audio playlists, and articles. They've got sculptor Donald Judd and photographer Dorothea Lange on exhibit for the remainder of April with more to come in May.

All-ages field trip through The Tech
Children in your house getting antsy? Let two virtual buddies lead them on a virtual field trip through the Tech and get 30 valuable minutes to regain your sanity. It's really well done and will get your kids excited for their next trip in person. As a bonus, once they've done the tour, give them a chance to solve a cyber crime in 8 different activities from coded communication to scam alerts and the Internet of Things.
A tour through the house of the world's #1 social distancer

What San Jose virtual experience is complete without a trip to the Winchester Mystery House? They're offering virtual, guaranteed ghost-free tours of the mansion where you'll see a selection of some of the 200 rooms and thousands of architectural oddities that make Sarah's house one of the premier destinations in San Jose and in the nation.
OUTDOOR ADVENTURE

Walk it out

If you need a break from walking around your neighborhood, or if you're unable to go for a walk during quarantine, check out these virtual walks sponsored by Keep Coyote Creek Beautiful. Upcoming events include a virtual walk at Shady Oaks Park and another at Almaden Quicksilver — with live Q&A chat if you have questions about the flora and fauna you discover.

FOR THE BOOKWORMS

Rhyme time with Hicklebees
Everyone's favorite local bookstore, Hicklebees in Willow Glen, is serving up all kinds of fun events from storytimes to challenges. April is Poetry Month (who knew?) and if you follow Hicklebees on Twitter you can join in on all kinds of poetic adventures.

Read and win with San Jose Public Libraries
People are dusting off their piles of "to-reads" while we're shut in, so if you're doing it anyway, why not go for a prize while you're at it? Log your reading minutes during the Spring into Reading challenge, and–depending on your age group–you can win anything from backpacks with school supplies (for Fall, naturally!) to airpods. (And while this contest ends April 30, keep an eye on the library website; we'll likely see more fun events like this in the coming months!)

And speaking of the library…

Get an eLibrary Card
While libraries are shut down, SJPL is offering new eLibrary Cards with access to online learning, electronic checkouts, streaming services, and downloads for any resident of San Jose.
MUSIC

San Jose Jazz: Live from Home
Nothing more soothing for the soul than smooth jazz while we obsessively wash our hands to the beat. These 30-40 minute live streams of local San Jose musicians are truly delightful, and give you a chance to find some new favorites that you'll want to hear live when the world starts spinning again.
THEATER

Cure the blues with the best medicine

First of all, if you haven't been to a ComedySportz performance live (with the whole fam OR for the 18 and over late show) you must put this near the VERY top of your post-quarantine to-do list. But the next best thing to seeing live improv comedy is a virtual show featuring our San Jose team. Check out their Facebook page to find showtimes and get guffawing in your living room.
CityLights: "Coded" on stage
CityLights Theater — like so many others– had to close down before opening night on their brand new show "Coded" — but the good news is they're still welcoming theater patrons to watch a recorded performance of the show for free (though do be sure to make a donation if you can!)

A quick synopsis of this timely, virtual reality-themed show:

Jerrie was on her way to being a leader in the gaming industry, until a competitor armed with a legion of internet trolls launched an all-out assault on her, and she was forced into hiding. Now, she's back with a hand-picked team and a plan to revolutionize virtual-reality gaming. If she can keep the trolls at bay and control over her staff, she might be able to dismantle the industry's boys' club. But when the virtual world begins to invade the real one, things get more surreal than she could have imagined.
SHOPPING
Show some love to local retailers
SJMade has launched an awesome storefront (perhaps in a timely nod to the Animal Crossing New Horizons craze?) called SJMade Town— a videogame-themed tour through some of our local artists' and retailers' virtual stores. Browse through and buy local from some really cool vendors you may not have known existed! (It's possible I've already purchased an "Emotional Baggage" tote from Dollgirls and have my eye on a beeswax candle from Dandy Roots).
What San Jose-themed virtual experiences are you finding? Share them with our readers (and us — we can't get enough!)