By: Vaughn and Jordan
As many of you know, the Sharks didn't bring home the Stanley Cup. (I know, I know–sorry to reopen the wound).  What you might not have known is that Bill Peduto, the Mayor of Pittsburg and our very own Mayor Sam Liccardo had a friendly bet riding on the series. First, the losing mayor had to take a picture in the opposing team's jersey and post it to social media. (It's too painful to repost here. We're sorry. We just can't do it). Second, the losing mayor would send a gift basket full of treats representing his city to the winning mayor.
If you missed Mayor Liccardo's basket on social media, here it is: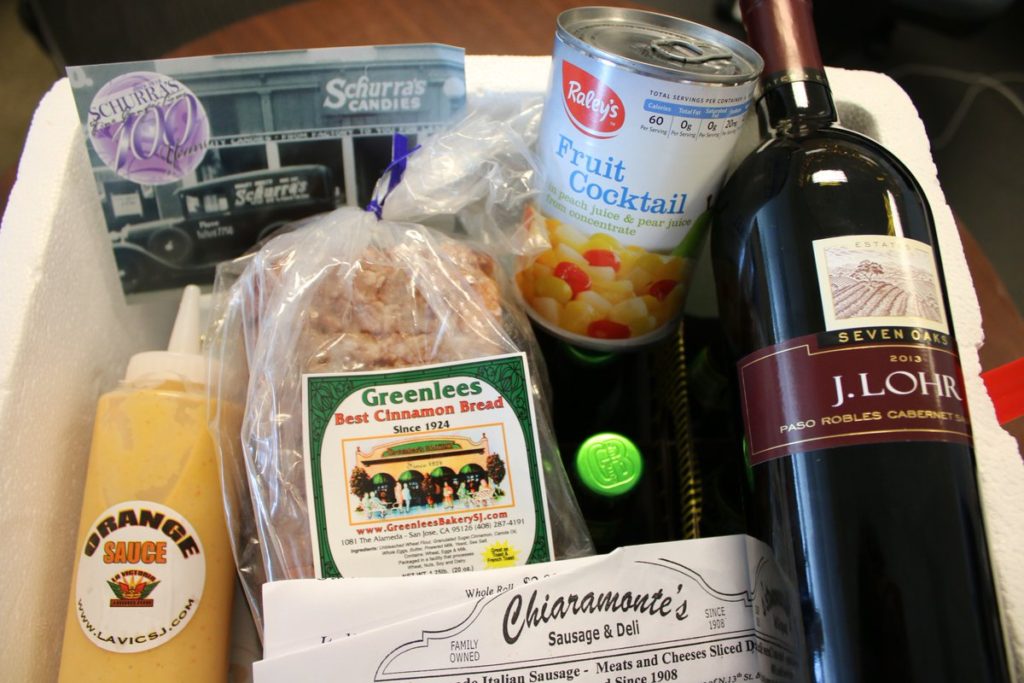 Looks like a great assortment, but what IS all of that in there? And more importantly, WHY is it in there? And most importantly of all, what's missing that should have been included?
Let's take a closer look at the contents:
Schurra's Fine Confections
Schurra's has been in business on the Alameda for over 100 years providing fine confectionary treats to young and old alike.  A strong choice from the Mayor regardless of if he went with chocolates, brittle, or the delightful Beethoven Bon Bon's (and why not, as readers know San Jose is home to the Beethoven Center).  See's Candies might be the first shop people think of concerning Bay Area candies but do yourself a favor, skip the chaos and go to Schurra's instead.
La Vic's Orange Sauce
La Vic's has become so synonymous with their oddly addicting and widely adored orange sauce that they proudly proclaim themselves as, "the home of the orange sauce" and after Pittsburgh Mayor Bill Peduto polishes off the bottle of J. Lohr and the sixer of Gordon Biersch he too will undoubtedly fall in love with the delightful concoction.  While Liccardo can share the La Vic's orange sauce he'll never be able to tell about its ingredients.  La Vic's, who claim that the sauce originated in their first restaurant near the SJSU campus, continues to keep the recipe secret to this day.  
Greenlee's Bakery Best Cinnamon Bread
Liccardo continued his stroll a bit further down the Alameda to visit Greenlee's Bakery and pick up a loaf of their nationally renowned cinnamon bread.  Greenlee's has been baking in San Jose for over 90 years and thanks to QVC, Amazon, and Costco the delightfully tempting and aromatic bread has become available beyond the South Bay.  It's unclear how Greenlee's cinnamon bread earned the honor of being the best but take one bite and I'm sure you'll agree.  
Gordon Biersch beer
Arguably, the most popular brewery in San Jose is the beloved Gordon Biersch brewery and bottling facility, opened in 1997 and designed by Dan Gordon himself. It's state-of-the-art, uses San Jose water so you get a taste of San Jose in every sip, and offers fact-filled tours of the brewery throughout the week. Not to mention a few other secrets we've uncovered as well. A perfect addition to the basket; we can see Mayor Peduto pairing it with one of those Pittsburgh pierogis now…
Fruit cocktail
Yes, ladies and gentlemen: the familiar go-to serving of canned fruit from our childhoods has its origins here in fine city of San Jose. The first reference to delicious, syrupy pear, peach, cherry, and…whatever other chunks are in there being referred to as "fruit cocktail" was right here in San Jose in 1930. Ignore that this can is Raley's brand; the original San Jose fruit cocktail was produced by Herbert Gray of San Jose's Barron-Gray Packing Company. (Though the jury is out on this. For a rundown of the great "Fruit Cocktail Mystery" check out the online History San Jose exhibit).
J. Lohr wine
First of all, if you're not having a sip of J. Lohr wine as you read this, stop right now and go pick some up. I'll give you a few minutes…
…
Back? Okay good. And cheers.
J. Lohr Winery, established in 1974, has become a local favorite in a city not known for its fine wines. In 2013, it was named Tasting Panel Magazine's Winery of the Year. It's become so popular, the mayor's basket wouldn't have been complete without it. You can find their wine in most grocery stores around the city, as well as at the winery itself. (Which you should definitely plan to hit up for your next date night; check their events calendar to see when they have live music and special pairings/tastings).
Chiaramonte's Sausage
We reached out to the Mayor's office to find out Liccardo's sausage of choice from Chiaramonte's Deli & Sausages however aides declined to comment (ok, fine they didn't even reply)*.  It doesn't really matter if it was the Italian hot sausage or the Portuguese smoked sausage, we know regardless that Chiaramonte's is San Jose's go to for handmade sausages.  Contrasting the burgeoning La Vic's, Chiaramonte's has quietly remained a South Bay staple of sausage for over 100 years from its quaint deli just outside of Japantown.  Come for a taste of Sicily, stay for the cool collection of antiques and the beautiful vintage sign outside.  
*Mayor Liccardo responded to confirm that it was the spicy Italian sausage.  A fine choice indeed.
So what's missing? While it poses shipping issues, Eggo waffles invented in San Jose in 1953 (and a LOVELY accompaniment to fruit cocktail, I might add) would be a critical addition to this basket. Also burnt almond cake from either Dick's Bakery or Peters' Bakery (don't even get us started on THIS rivalry!) has become a food synonymous with the city. And, seeing that San Jose was the first commercial producer of broccoli, for good measure—and a pop of color—a nice heap of broccoli would top this whole basket off.
And perhaps a challenge to a rematch next year.